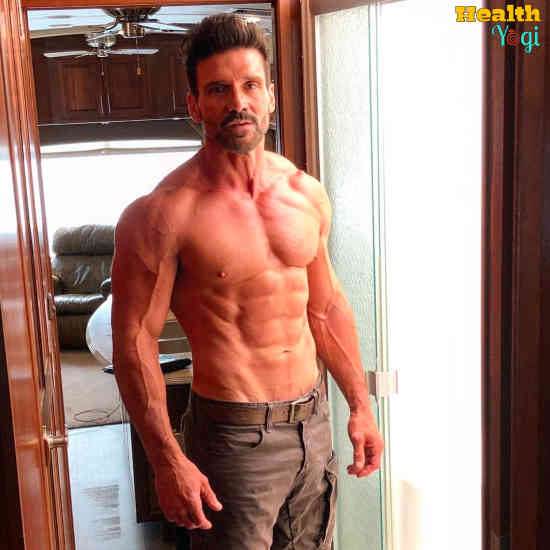 Frank Grillo Workout Routine and Diet Plan: Frank Grillo is a director, model, and actor known for his roles in movies like Captain America The Winter Soldier, The Purge series, Boss Level, Beyond Skyline, The Grey, Point Blank, Avengers, Jiu-Jitsu, etc.
He has also starred in shows like The Kingdom, which was quite a successful show. Frank gets recognized as an incredible actor. However, he's also an inspiration and a fitness model. So if you also want to know the Frank Grillo workout and the Frank Grillo diet plan, keep reading.
Frank Grillo Body Stats
| | |
| --- | --- |
| Height | 5 ft 10 inch |
| Weight | 82 kg |
| Age | 55 years |
| Chest | 44 inch |
| Waist | 32 inch |
| Biceps | 15½ inch |
Also Read: Nick Jonas Workout Routine and Diet Plan [2020]
Frank Grillo Workout Routine
Frank is undoubtedly one of the best inspirations for staying fit even when you cross the 50 age line. Can you believe that he's 55 and soon going to be 56 and have a body like that? Isn't that incredible, but I don't think it's so easy to achieve that kind of mindset. Frank didn't just build that body when a few years ago; he maintained himself in a very fit shape for a very long time now.
It's incredible how ripped and fit he looks, and the workout that Frank does is so natural and needs minimal equipment. Did you know that Frank is one of those people who doesn't believe in training the biceps and triceps a lot when weight training? Don't worry; I will tell you the reason behind it and why Frank says that in a few when we go into detail.
So we can call ourselves lucky, as Frank recently interviewed with Men's Health and there he mentioned and showed how he keeps himself in that kind of fitness. Frank starts by saying it's a lifestyle I didn't get this fit by doing a workout just a few years ago. He also mentioned that people say we will get that shape when they are 50: but how will you get a body like this when you are older when you could not get it in your younger days.
It's so true that we can do it later when we get a little older; you need to understand the more age you gain, the less your energy, metabolism, and muscle recovery gets. It's hard to transform an older age, but easy to do it when you are young and significantly below 30. Then, Frank carries on with his workout routine, mostly boxing, weight training, and core workout.
Frank Grillo workout includes:
Shadowboxing
It's not a very tough workout but seems very effective for the warm-up; Frank starts with 20 minutes of shadowboxing. It's the best way to keep your body warmed up and open up your muscles.
Frank also said that he doesn't even realize sometimes when he starts to shadowbox. Even when he goes shopping, he suddenly starts doing these jabs and punch combos without even realizing it.
Weight Training
In weight training, Frank likes to train heavily. However, he only focuses on body parts like the chest, shoulder, back, and legs. As arms come in the way of a boxer, it's best to work them out naturally.
He would do 5 to 6 sets of 8 reps of heavyweights, which is excellent for bulking up and keeping the strength. So you can follow precisely that, and try not to do more than 45 minutes of weight training.
Boxing (pad work)
After that, it's time for 20 to 30 minutes of boxing session to work as cardio. Do you know it's super-effective to burn fast as your metabolism rate gets high after doing a weight routine?
So working your cardiovascular muscles when your metabolism is high will help you lose a lot of weight and gain lots of stamina.
Core Workout
Frank likes to do a core workout that contains training only for 8 to 10 minutes maximum after every workout. Make sure that you stay focused on doing only that much and wouldn't take it too far.
You can follow the exact routine that Frank showed in that interview. Also, I guess he offers you one set of exercises, so make sure you repeat the whole pattern three times with a 30 seconds break after all the activities.
That's all for the Frank Grillo workout routine.
Also Read: Anthony Mackie Workout Routine and Diet Plan 2020
Frank Grillo Diet Plan
The article from Muscle and Fitness tells us about Frank's diet. In that article, they also interviewed Frank, and he mentioned that he doesn't consume any grains or dairy and also consumes meat that is high quality and fed grass.
Frank contains fats from almonds, nuts, seeds, and avocado. Also, Frank mentioned that he doesn't care about the weight, calories, or the macros he consumes. It has never been a thing for Frank, and before, he doesn't consume fats because of people telling him that if you eat fat and get fat.
However, now he knows and consumes a lot of healthy fat and is in the best shape of his life. Frank declared that he has never taken any supplements to gain that body shape. He also mentioned that he rarely does cheat meals, but he does love a glass or two of wine now and then. So, now let's get a diet plan for you to get a body like Frank. Note* It's my version of his diet and not his diet.
Frank Grillo diet includes:
Breakfast
Snack
Protein smoothie made from almond milk, almond butter, banana, strawberries, raspberries, blueberries, and some vegan protein
Lunch
Chicken breast

Kale or asparagus

Salad
Evening Snack
Dinner
Steak

Veggies

Salad

A glass of wine
That's all for the Frank Grillo diet plan.