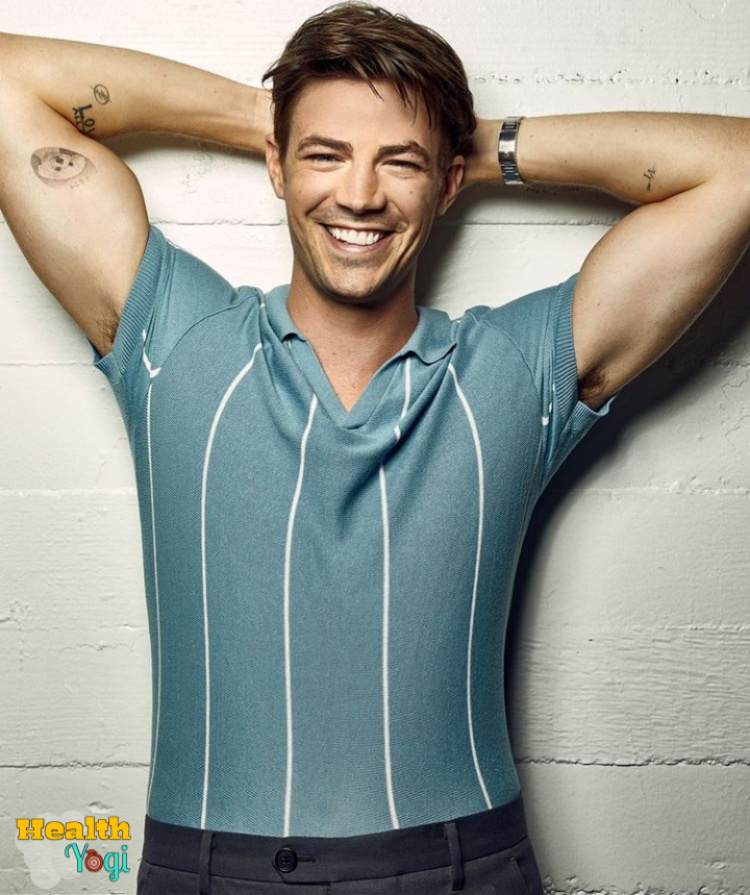 Grant Gustin Workout Routine and Diet Plan: The eighth season of the American superhero television series 'The Flash' was released on 28 July 2021 and successive episodes are set to release in 2022 onwards. This season is also gaining all eyeballs, just like its previous seasons with lots of accolades and appreciation pouring in for Grant Gustin. Grant Gustin is an American Actor who is leading this series and has garnered a huge fan following for his role as The Flash/ Barry. But with top-notch performance, Grant Gustin also undertook training to completely justify his character in 'The Flash'.
So, if you are his fan and are looking for some insights into his training schedules then we got you covered. In this post, we will tell you about ways that Grant Gustin used to prepare for his role and his general workout plans that result in his lean body with a good muscle mass.
Grant Gustin Body Stats
| | |
| --- | --- |
| Height | 6 feets 2 inches |
| Weight | 65 kgs |
| Age | 31 years |
| Waist | 32 inches |
| Shoulders | 34 inches |
Also Read: Tom Felton Workout Routine and Diet Plan
Grant Gustin Workout Routine
Grant Gustin has revealed that he has always been lean and had a pretty physically active routine. But something that has really struck a chord with all fitness enthusiasts is his body-shaming struggles. Grant Gustin had once tweeted about people asking him to gain 10 pounds, and he rightly pointed out that his body is his own choice and nobody needs to have any say in how he conducts it.
We at Healthyogi have always stressed that your body is completely unique and you must not stress too much to fit into societal standards. So, Kudos to Gustin for lighting up this issue that we commonly face, but choose to remain silent. As mentioned, Grant Gustin has a lean body and so he has to train harder and longer to gain some muscular lining. When shooting and at a shortage of time, Grant does a lot of Pull-ups and Pushups to balance it up.
Grant Gustin Workout Includes:
After the long breaks
Recently, Grant shared a post on his Instagram profile that highlighted his mental health struggles and gave an insight into how he has been maintaining his calm through his anxiety and depressive episodes. Grant acknowledged that he has been on quite an unhealthy schedule and then, he took to working out, meditation, healthy eating, and mindfulness for breaking this cycle.
And he revealed that around episode 3 of season 7 he'll have some beef (muscle) on his body. Gustin also highlighted that such small changes in his physical fitness lead to massive mental benefits, with him being a more present and happier version of himself.
Running
In a 2014 interview, Grant revealed that his preparation phase for The Flash included lots of running and he had been training with an Olympic running trainer for some time. And his workout routine has been quite long, stretching for hours at once. He gained some weight through these workouts and to maintain it while shooting, he tried to stick to running and physical activity through pull-ups and Pushups.
Tricep Dips
A social media post before the shooting of The Flash season 7, shows  Grant trying out Tricep dips for upper body strength training. This is essentially an appreciation post for his training academy and highlights that workouts have made him feel stronger and healthier.
Squats
Add Squats for the toned lower body and a strong core as of Grant Gustin in The Flash. Squats are pretty common exercises but they have high benefits and you can add Planks, Treadmills, Pull-ups, and Pushups for a complete workout. We would suggest you train as often as possible and with a comfortable intensity.
That's all for the Grant Gustin Workout Routine.
Also Read: Ezra Miller Workout Routine and Diet Plan
Grant Gustin Diet Plan
In the recent Instagram post, Grant Gustin also told us that his anxiety has a depreciating effect on his appetite, and his workout routines have allowed him to eat more and healthier. So, your mental and physical health are not just connected to each other, but also to your eating habits. Your physical fitness through Workouts will promote a good appetite and improve your eating habits.
No strict Calorie Count
Gustin has stated at times that for his role as Barry Allen he was required to be lean which he already is. And he did not need to count his calories intake and he could yet have the stature that his role required. Also for a body like Gustin, sometimes eating more and healthier equates to better health altogether. So you must not shame yourself for eating much if your body requires it. Just make sure that it's healthy and in moderation; which results in no adverse effects and high energy levels.
Grant Gustin also moves to slightly heavy food like Mac and Cheese and Hotdogs when he feels like it. It's one of his favorite dishes and munches on them often.
Is Grant Gustin Vegan?
No, Grant Gustin is not Vegan.
Breakfast
Lunch
Snacks
Dinner
 That's all for the Grant Gustin Diet Plan.
Also Read: Stephen Amell Workout Routine and Diet Plan | Train Like a Oliver Queen