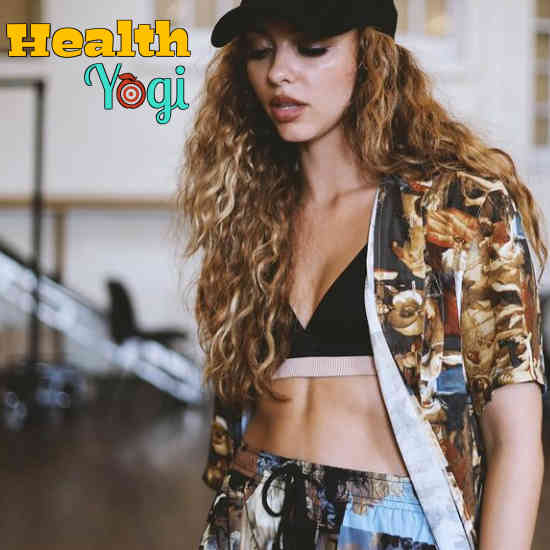 Jade Thirlwall Diet Plan and Workout Routine: Jade Thirlwall is a singer and member of the girl group Little Mix; we all know them for their music and fabulous fashion. Jade is one of the most beautiful singers and has quite a fan following that admires Jade. 
However, it is not just admiration; I'm sure many of her fans also want to have abs like her and get a toned body like Jade. So if you also want to know the Jade Thirlwall workout and Jade Thirlwall diet plan, then keep on reading.
Jade Thirlwall Body Stats
| | |
| --- | --- |
| Height | 5 ft 2 inch |
| Weight | 49 kg |
| Age | 28 years |
| Breast | 32 inch |
| Waist | 24 inch |
| Hips | 33 inch |
Also Read: Perrie Edwards Workout Routine and Diet Plan [2020]
Jade Thirlwall Workout Routine
Jade Thirlwall loves to workout regularly. However, there are different things that she focuses on working out. Sun Magazine tells us that Jade loves to work out with weights and strength training. There are many other things that Jade loves to do, which also include bodyweight training and cardio. However, Jade is the type of person that doesn't like to work out alone.
In the Cosmopolitan interview, Jade stated that she also takes a buddy with her when she goes to the gym. Jade also said that she likes to listen to power music while working out; it helps her stay focused. Also, when she isn't going to the gym, she makes sure that she does squats, crunches, etc., before going to bed as something is better than nothing.
However, the singer revealed not many exercises, so we can't accurately do what Jade does in her workout routine. Still, I can give you some workouts that will help you look like Jade. We will focus on doing the warm-up, then move to weight training/strength/resistance band training, and then end our routine with a quick cardio burner.
Jade Thirlwall workout includes:
Warm-up
Make sure you do your warm-up before starting work out. You can do exercises like squats, high kicks, shoulder taps, inchworm, etc. The aim here is to make your body active and ready for the main workout. So make sure you do at least 10 minutes of warm-up.
Gym Routine
The gym routine will be a mixture of many different exercises. Mostly focusing on weights and strength training as we read in the sun article. We will be working out for five days a week, mainly focusing on the legs and core parts.
Monday
Sets: 3
Reps: 10 to 12
Rest time: 30 seconds
Weighted squats

Kettlebell squat press

Weighted lunges

Banded squat pulse

Leg press

Shoulder lateral raises

Shrugs
Tuesday
Sets: 3
Reps: 10 to 12
Rest time: 30 seconds
Crunches

Leg raises

Plank twister

Resistance band plank hold

Resistance band plank walks

Chest press

Dumbbell flyes
Wednesday
Sets: 3
Reps: 10 to 12
Rest time: 30 seconds
Hack squats

Banded squat walks

Leg curls

Weighted lunge step-up

Kettlebell sumo squats

Bicep curls

Barbell curls
Thursday
Sets: 3
Reps: 10 to 12
Rest time: 30 seconds
V-ups

Russian twist

Hanging leg raises

Side plank

High plank

Lat pulldowns

Cable rows

Dumbbell deadlifts
Friday
Sets: 3
Reps: 10 to 12
Rest time: 30 seconds
Deep squats

Curtsy lunge

Calf raises

Glute thruster

Hip abduction

Glute kickbacks

Triceps pushdowns

Tricep dips
Cardio Bruner
We will finish the workout with a 15 to 20 minutes cardio routine that will be the key to our training. It tested that doing cardio after the exercise can help you lose more calories as the metabolism rate is higher after the weight lifting workout. So let's see the routine:
4 minutes running at your best moderate pace

1-minute sprint

5 minutes of HIIT hydro-rowing 1 minute in moderate pace and 30 seconds sprint

5 minutes of air biking
That's all for the Jade Thirlwall workout routine.
Also Read: Jesy Nelson Workout Routine and Diet Plan
Jade Thirlwall Diet Plan
Jade Thirlwall diet plan consists of eating healthy food and making healthier choices. I couldn't precisely find the things she eats, but I saw some sources mentioning her eating chicken, veggies mostly for getting lean. So we will be doing something similar to that.
The diet that we will follow will consist of eating around 1.8k calories a day, and we will take the carbs amount to the minimum. Also, make sure to drink lots of fluid and water to stay in good shape and health.
Jade Thirlwall diet includes:
Breakfast
Egg white omelet

Avocado

A slice of toast

Juice or coffee
Snacks
Lunch
Evening Snack
Dinner
That's all for the Jade Thirlwall diet plan.