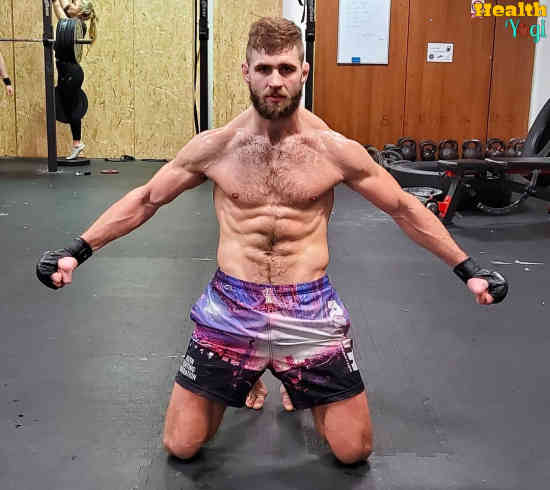 [UFC Light Heavyweight Fighter] Jiří Procházka Workout Routine and Diet Plan: Jiří Procházka is a pro-UFC mixed martial artist that fights in the light heavyweight division. Also, hold the record of 27-3-1, and undoubtedly, one of the guys you don't want ends up fighting.
Jiří Procházka has made quite a name with how he looks, fights, and the way he presents himself. So if you also want to train like Jiří Procházka and want the Jiří Procházka workout and Jiří Procházka diet plan, then keep reading.
Jiří Procházka Body Stats
| | |
| --- | --- |
| Height | 6 ft 3 inch |
| Weight | 93 inch |
| Age | 28 years |
| Chest | 44 inch |
| Waist | 32 inch |
| Biceps | 16 inch |
Also Read: [UFC-Light Heavyweight Fighter] Dominick Reyes Workout Routine and Diet Plan
Jiří Procházka Workout Routine
Jiří is undoubtedly one of the best Muay Thai kickboxers you will see in the UFC right now. Making his name and winning so many matches makes him even more special and proves how good a fighter Jiří is when he's fighting in UFC. So, I'm sure you must be wondering how he can maintain his body fitness and shape, well don't worry as I will explain everything to you.
Jiří hasn't done any recent interviews where you can see him explain his workout for the next fight. However, I did check his Instagram account, where Jiří stays out active and posts his workouts quite often. For example, take this post, where he showcases a slight glance of his training.
Jiří does cardio workouts, where he does treadmill or sometimes Air bike; he also loves to go out and run outside in nature. Then there is the weight training routine that is part of his everyday workout, where you will see Jiří doing a lot of heavyweight training. Jiří workout also includes agility workout, core workout, and his MMA training workout.
So, after learning all the things he does, I think we can make a routine that might help you get fitness close to Jiří Procházka. It won't be the exact pattern that Jiří Procházka does, but for sure, it will be close to the original routine. We will train our body six days a week, in which we will train for three hours to four hours in the minimum divided into morning and evening routines.
Jiří Procházka workout includes:
Morning Routine
In the morning routine, we will start with a cardio workout where we will do HIIT Training. So basically, athletes need to be fast on their feet and have that explosiveness to go from ordinary to the beast mode when they want.
That's why we will do 20 laps of 100-meter springs with 30 seconds rest. Then we will move to 10 laps of 200 meters on the Air bike with 30 seconds rest. Lastly, it will be 10 minutes of speed rope. That will be all for your cardio workout.
Then take it to the weight training, where you will be training a mixture of different workouts. I have never trained any athlete, so I can't say the actual plan, but I would suggest focusing on heavyweight and making every rep explosive. That's the way most athletes work out.
Make sure to add the exercises like deadlifts, snatch, chest press, shoulder press, etc. Also, follow this training pattern:
Monday:

Upper body with core

Tuesday:

Strength training

Wednesday:

Functional training

Thursday:

Lower body with core

Friday:

Strength Training

Saturday:

Upper body with lower body
Evening Routine
You might want to go to an MMA gym and train there for about an hour or two. If you are trying to go into a pro-MMA fight, then don't skip on any days. However, if you are doing this for a hobby and to get a physical appearance, then four days would be enough for you in a week.
That's all for the Jiří Procházka workout routine.
Also Read: Jan Blachowicz Workout Routine and Diet Plan
Jiří Procházka Diet Plan
Jiří Procházka told in an interview that got covered by the Media Referee website in their article where Jiří Procházka stated he loves to eat meat, but he stops eating it a few days before a fight. The reason for that is that Jiří Procházka wants his body to feel light and filled with energy, which is why the vegetarian diet is involved.
Then his Instagram account has this story, where he shows some of the food that he consumes. Mostly breakfast was a bowl of oats with fruits, and lunch was rice with veggies and around 250 to 500gm of Salmon.
Jiří Procházka diet includes:
Breakfast
Oatmeal with protein powder, almond milk, bananas, blueberries, and two tablespoons of honey
Snack
Lunch
Chicken or Salmon

Veggies

Rice
Evening Snack
Dinner
Steak or turkey breast

Veggies

Smashed potatoes
That's all for the Jiří Procházka diet plan.
Also Read: Jon Jones Workout Routine and Diet Plan 2020