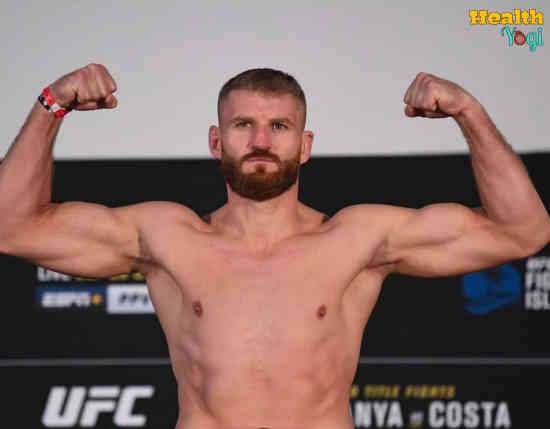 Jan Blachowicz Workout Routine and Diet Plan: Jan Blachowicz is an MMA fighter currently fighting in UFC Light heavyweight division. He's not just fighting but also defending the championship title of the light heavyweight. Undoubtedly one of the best fighters there ever born, a quick and heavy fighting style that gives people trouble.
Jan Blachowicz is also famous for his training style, the black belt in Brazilian Jiu-Jitsu, and learning many different forms to get better. So if you also want to learn more about the Jan Blachowicz workout and the Jan Blachowicz diet plan, then keep on reading.
Jan Blachowicz Body Stats
| | |
| --- | --- |
| Height | 6 ft 2 inch |
| Weight | 92 kg |
| Age | 38 years |
| Chest | 44 inch |
| Waist | 33 inch |
| Biceps | 16 inch |
Also Read: Israel Adesanya Workout Routine and Diet Plan [2020] | Train Like a Middleweight Champion
Jan Blachowicz Workout Routine
Jan loves to train hard, especially months before the fighting season arrives. He's like a hungry person ready to eat more and more when it comes to getting better. I have researched his social media accounts and found out most of his workout routine. The things that Jan loves to incorporate in his training plan.
His training divides into these critical phases MMA workout, agility, stamina, and weight training, then finishes with muscle recovery. Muscle recovery is the most crucial part as because of that, his body stays so healthy. As he's from polish, his typical muscle recovery activity is taking an ice bath in the river most of the time. Sometimes he will also do cup therapy and massage therapy to make sure his body relaxes and heal the muscle tissue he breaks.
Now coming back to working out, the training contains doing an hour or more of MMA workouts divided into the floor, top, sparring circuits, etc. All of these are getting repeated from time to time where Jan will be practicing with others. That's helped him gain stamina, work his whole body and burn many calories while working on his skills. 
Jan also loves doing some weight training and cardio routine to keep him in shape, especially when traveling. Other than that, Jan also loves to do activities on his rest days. Instead of sitting at home, Jan takes his bike and rides on mountains with his gang. That's also why he's so fit and active; Jan also enjoys indoor mountain climbing, which he even shared on his Instagram.
So after reading all that, I think we can work out a routine that you can follow and get a body like Jan Blachowicz. We will work out five days a week and have active rest for the rest two days. So let's get started:
Jan Blachowicz workout includes:
Morning Routine
In the morning routine, you will be doing the MMA workout, for which I would recommend joining a nearby gym. That will help you not only get in shape but also learn fighting techniques and skills. An hour and a half are more than enough while you're training your fighting skills. Make sure you don't push yourself way too hard unless used to working out like an athlete.
Evening Routine
In the evening routine, we will train a little bit of cardio and focus on weightlifting and strength-building exercises. I would recommend going through compound movements and functional training. While for the cardio, you can have your 3 to 5 miles run before starting the workout. You can also go running as soon as you wake up. It's your choice which seems better for you.
Active Rest Days
On the active rest days, we will be doing any activity you would love to do. No matter if it's biking, walking, trekking, hiking, make sure to keep moving; that's what matters here. You can also do house chores and clean to burn quite a lot of calories.
That's all for the Jan Blachowicz workout routine.
Also Read: Jon Jones Workout Routine and Diet Plan 2020
Jan Blachowicz Diet Plan
Jan's diet contains eating a lot of meat and protein to stay in shape. He is also eating a fair amount of carbs as the workouts burn a lot of calories. However, there is still no proper diet available by him or his trainer, but don't worry, as after learning so much about UFC fighters. I think I can give you a diet to follow:
Jan Blachowicz diet includes:
Breakfast
Chicken sausage

Eggs

Juice
Snacks
Lunch
Chicken breast

Rice

Veggies

Salad
Dinner
Steak

Brown rice

Veggies

Salad
That's all for the Jan Blachowicz diet plan.
Also Read: Conor McGregor Workout Routine and Diet Plan 2020