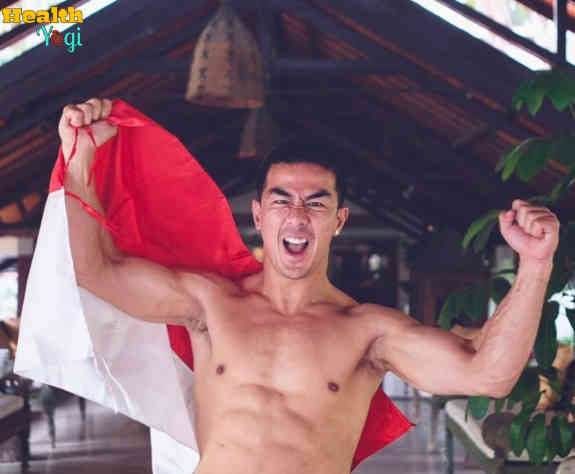 (Mortal Kombat Sub-Zero) Joe Taslim Workout Routine and Diet Plan: Joe Taslim is an actor known for his martial arts and action movies. You all may have seen Joe in movies like Mortal Kombat, The Swordsman, Hit & Run, Fast and Furious 6, Star Trek Beyond, etc.
Joe also stars in the Warriors series, which is also an incredible series. Joe also has a very fit and healthy body that many would love to have. So if you also want the Joe Taslim workout and Joe Taslim diet plan, then keep reading.
Joe Taslim Body Stats
| | |
| --- | --- |
| Height | 5 ft 10 inch |
| Weight | 75 kg |
| Age | 39 years |
| Chest | 42 inch |
| Waist | 32 inch |
| Biceps | 15 inch |
Also Read: Tony Jaa Workout Routine and Diet Plan
Joe Taslim Workout Routine
Joe is one of the best martial artist actors in the whole of Indonesia. I always have respected these actors, as they don't take the help of the stuntman to do the action and always put themselves in the situation where they are the one who is in danger. That's why it's not easy to become an action star, as you would constantly be putting yourself in a situation that can end your career.
Joe is no stranger to the stunts and fighting scenes, and he is also no stranger to being a martial artist and working out. So how did the actor train for his role in the biggest martial arts movies ever? Well, I would say we are pretty lucky as Men's Health very recently interviews most of the Mortal Kombat cast in which Joe was also there.
You can see Joe talking about his routine in that interview, which is pretty basic and probably what you should expect from martial artists. Joe likes to do a lot of different workouts, but with that, he also loves to use minimum equipment. You won't see Joe using a lot of equipment and doing proper weight training ever. The equipment that he does love to use is the treadmill itself.
Joe Taslim workout includes:
Treadmill
Joe explained that he does 20 minutes of high-intensity training on a treadmill, allowing him to get a good warm-up and burn many calories. It's one of the best exercises for your cardiovascular and makes your heart beats so fast that your body starts to burn many calories.
Shadow Training
Later on, Joe shows that he does shadow training, which in Judo considers using his imagination of fighting their own shadow. However, Joe uses a boxing bag for this, and he likes to swing the bag as much as he can so he can imagine the bag as an opponent approaching him.
Joe does this also as a circuit or high-intensity training with five rounds of 5 minutes. That helps him get the warm-up done for his bag workout that he does after this routine.
Boxing/Heavy Bag Workout
So in the heavy bag workout, you will see Joe doing a mixture of Judo, boxing, and kickboxing. He keeps the intensity high, taking less rest between the sets and doing intense sparring.
This workout is also the same as the previous one, just a lot more intense. The round count and duration are also the same five rounds of 5 minutes. With a minute rest after every round.
Weight Training
So, he doesn't take a lot of time doing weight training; as Joe stated, as a martial artist, I cannot get too much muscle volume as it will affect my movement. That is why Joe does a full-body workout containing these exercises:
Sets: 4
Reps: 12
Overhead press

Chest press

And crunch machine

Hanging leg raises

Judo/Hindu push-ups
Then, he finishes all of his workouts with lots of stretching that you all need to do and should not skip in any circumstances.
That's all for the Joe Taslim workout routine.
Also Read: Vidyut Jamwal Workout Routine and Diet Plan 2020
Joe Taslim Diet Plan
Now, there isn't a specific diet that Joe has told us, but he does mention it in many other places that he keeps it clean. Joe's diet would usually contain effortless meals such as chicken, rice, veggies, fish, and salad. Sometimes he does have certain foods that may not be super healthy, but that rarely happens.
Joe Taslim diet includes:
Breakfast
Eggs

Whole-grain bread

Juice
Snack
Lunch
Chicken

Rice

Veggies

Soup
Dinner
Fish or chicken

Veggies

Rice

Salad
That's all for the Joe Taslim diet plan.
Also Read: Michael Jai White Workout, Diet, Age, Height, Body Measurements, Workout Video and Instagram Photos 2019