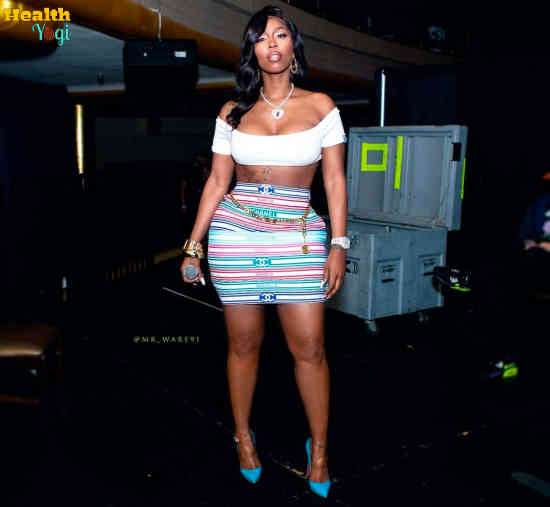 Kash Doll Diet Plan and Workout Routine: Kash Doll is a singer and rapper known for her music career and singles like Ice Me Out. She is also one of the upcoming lead rappers of America.
Kash Doll is also gets known for her body physique and curves. That thin waistline and big booty get everybody's attention. So if you also want the Kash Doll workout and the Kash Doll diet plan, reading.
Kash Doll Body Stats
| | |
| --- | --- |
| Height | 5 ft 6 inch |
| Weight | 60 kg |
| Age | 29 years |
| Breast | 34 inch  |
| Waist | 25 inch |
| Hips | 35 inch |
Also Read: [Big Latto] Mulatto Diet Plan and Workout Routine
Kash Doll Workout Routine
Kash is a singer, and she is undoubtedly one of the fittest American female rappers. Like no kidding, she has abs, biceps, and even muscles on the back. Kash also has a body type that girls want the most: a bubble butt with a slim waistline. So how is Kash able to keep that body in shape all these years.
Let's start with the question itself; Kash can maintain it because she is working out all these years. In this period, Kash has tried lots of different workouts and has done various exercises. From yoga, boxing, cardio to circuit routines. She even walked on a treadmill with heels to get used to her performance in heels. You can check that video right here.
Coming back to a workout routine, I searched and found some Instagram posts and videos of fans from YouTube. For example, in this post, Kash is doing boxing and losing 15lbs in a week. Kash's caption that she used, 9MagTv, uploads another video That shows a combination of Kash posts and stories. In that video, you can see Kash playing basketball and doing some drills to get her workout.
So I'm guessing for Kash, it's more about moving and keeping the body active. Such workouts like gym training, core routine, cardio, yoga, staying active, and boxing are the key to her fitness. Now let's see a plan made by me to help you get a body shape like Kash.
Kash Doll workout includes:
Cardio
The warm-up will get started with a cardio routine. In which you are free to do any workouts like running, biking, etc. I would recommend doing 10 minutes of jogging on a treadmill and then finish with three 200 meters sprints on a water rower. This plan will give your body a great warm-up and get the blood flowing while keeping your metabolism boost up.
Weight Training
We will focus on the lower body and core and do a few upper body training workouts. So I will suggest doing four days of WeWe three rounds containing four to five activities with minimum rest.
Circuit: 4
Exercises in each circuit: 3 to 5
Sets: 3
Reps: 15 to 20
Rest time after the whole circuit: 2 minutes
Monday and Wednesday
1st
Weighted squats

Bulgarian split squats

Leg press

Weighted lunges
2nd
Leg extension to curls

Stiff-leg deadlifts

Hip thrusters
3rd
Crunches

Bicycle crunches

Leg raises

Plank twister

Plank hold
4th
Bench press

Chest press

Wide grip lat pulldowns

Dumbbell deadlifts

Back lat pushdowns
Tuesday and Thursday
1st
Smith machine squats

Hack squats

Squat pulse

Leg pushdown

Glute bridge hold
2nd
Thigh abduction

Glute cable kickbacks

Ankle weight donkey kickbacks to fire hydrants

Calf raises
3rd
Toe touch crunches

Leg lifts

Bicycle crunches

Flutter kicks to scissor kicks

Plank walks
4th
Biceps dumbbell curls to hammer curls

Triceps pushdowns

Shoulder press

Lateral raise to front raises

Shoulder shrugs
Boxing
Once you get done with the circuit routine, you will be doing a cardio finisher which will be 20 to 30 minutes of boxing. It will get your heartbeat up and burn many calories, which will eventually make your body lose lots of fats. So make sure you don't skip this activity.
Stay Active
Now the rest three days of the week, you need to keep yourself indulge with activities which can be playing, working, or even going for the group classes. I would surely tell you to do an hour of yoga instead as it will help your mental health while keeping you in shape.
That's all for the Kash Doll workout routine.
Also Read: Saweetie Diet Plan and Workout Routine
Kash Doll Diet Plan
The diet plan was also mentioned im her stories and got cover by the 9MagTv YouTube channel. In that, Kash shows only her breakfast but does tell the grocery that she bought. That also includes salmon, chicken, spinach, and lots of greens, whole-grain bread, etc. So now let's see a diet that you can follow:
Kash Doll diet includes:
Breakfast
Turkey bacon

Two half fried or sunny side eggs

One slice of whole-grain bread
Snack
Lunch
Evening Snacks
Dinner
Salmon

Asparagus or kale

Salad
That's all for the Kash Doll diet plan.
Also Read: Megan Thee Stallion Workout Routine and Diet Plan [2020]