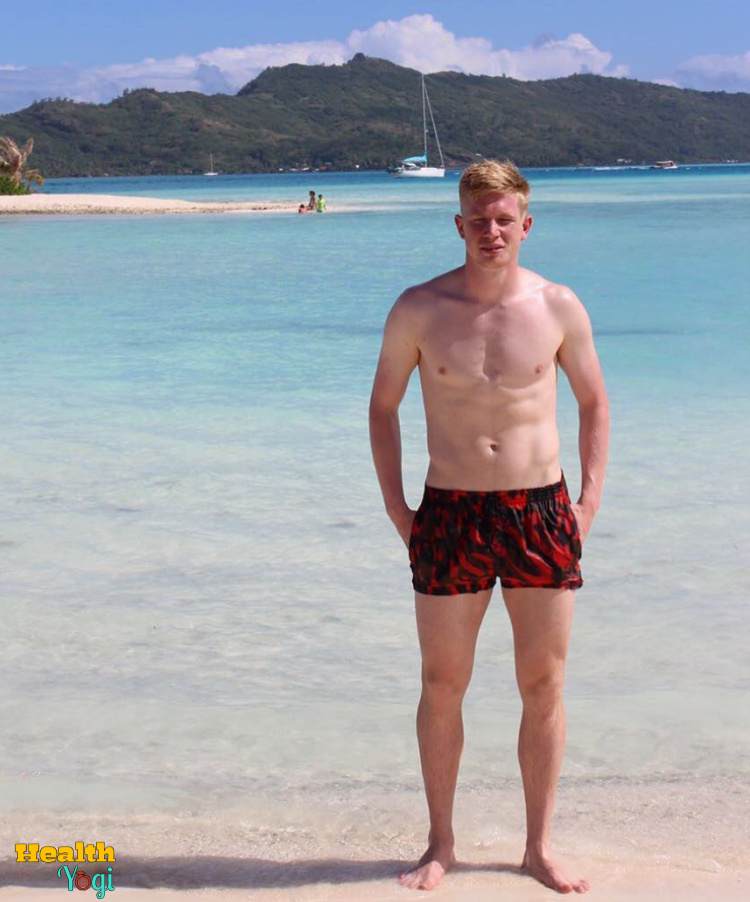 Kevin De Bruyne Workout Routine and Diet Plan: Kevin De Bruyne born on the 28th of June 1991 is a notable professional Belgian footballer. He plays as a midfielder for the Belgium national team and Premier League club Manchester City.  Kevin is widely considered one of the best footballers of his generation and in the world. 
He has won several accolades and titles in his football journey. Also, he is described as a "complete footballer" who best displays his skills, strategies, and strength in the game. But today within this article we are going to know about the Kevin De Bruyne workout routine and Kevin De Bruyne diet plan in a detailed way.
Kevin De Bruyne Body Stats 
| | |
| --- | --- |
| Body Stats  | Units  |
| Height | 5 ft. 11 inches or 1.81 m  |
| Weight | 70 Kg |
| Age | 31 years  |
| Chest | 40 inches |
| Waist | 30 inches  |
| Biceps | 14 inches  |
Also Read: Erling Haaland Workout Routine and Diet Plan
Kevin De Bruyne Workout Routine
Kevin spends a lot of time practicing and polishing his skills to fit perfectly in the team. Kevin has around 19.4 million fan followers on his Instagram account and more. But spare some time because here we have jotted down the great footballer Kevin De Bruyne workout routine in great depth. 
The entire Manchester City is impressed with their amazing skills of Kevin. He has great flexibility, agility, and pace during the game. Kevin De Bruyne's workout routine is a customized regime by the great football fitness trainer. The workout routine has all the important exercises included in it from strength training to core workouts and conditioning exercises. He also likes to go for a jog, run or perform some physical activities. He stays in the gym for 2 hours at least to stay fit.  
For all the fanatics of this amazing yet complete footballer and other fitness buffs who aim to be like him, here we are presenting the Kevin De Bruyne workout routine precisely.  Scroll down and read it properly. Take some insights and jump in: 
Before you start doing the workouts, take some time ( 10 to 20 minutes ) to perform stretching movements. As pre-warm-up is a very crucial part of fitness training.
Workout 1: Strength Training Exercises 
Sets & Reps: 4 sets of 8 reps 
Rest: 1.5 minutes in between sets 
The back squat is an ideal exercise for building double leg strength for footballers. 
Sets & Reps: 3 sets of 10-12 reps 
Rest: 1 minute in between sets 
This workout is included because it involves hip dominant movement working on the hamstrings. Also, this exercise helps in building balance and stability around the knee,ankle and hip joints. 
Sets & Reps: 3 sets of 10-12 reps 
Rest: 1 minute 
This exercise helps to build strength in various planes of motion. Also, it helps in strengthening the abductors. 
Workout 2: Full-body Workouts 
Reps: 5 ( single-leg box jump ) 
This workout helps in building leg strength and also provides stability. 
Sets & Reps: 3 sets of 8-10 reps 
This exercise is included in Kevin's workout as it helps in building core strength, and chest and arm strength. 
Sets & Reps: 3 sets of 20 reps 
This workout helps in increasing shoulder & upper back muscle strength. Also, it improves posture and reduces shoulder and neck strain.
Workout 3: Speed & Agility Functional Football Workout 
Proceed the sprint workout further with one long-distance sprint:- 
So, finally, we have come to an end of the Kevin De Bruyne workout routine.  His workout schedule is so well-curated and stuffed with various kinds of exercises to tone up the whole body. If you want to stay fit and healthy with an attractive body image, start following a well-prepared workout schedule blended with the right food habits. 
Also Read: Robert Lewandowski Workout Routine and Diet Plan [Updated]
Kevin De Bruyne Diet Plan 
Kevin De Bruyne diet plan is very simple and prefers to have home-cooked meals that have a great addition of nutritional value. So, before the match, he used to have more carb-loaded food items in his meal and after the game he just used to consume loads of protein rich diet.  Apart from that he simply follows a diet plan where he mostly intakes fresh and healthy meals with low calories & high amounts of essential nutrients, minerals, etc. He keeps drinking a lot of plain water the entire day to remain hydrated. 
Let's have a glance at the fabulous Kevin De Bruyne diet plan. From here you can get insights into his eating habits & nutrition. 
Is Kevin De Bruyne a Vegan?
No, Kevin De Bruyne is not a vegan. 
Breakfast
Avocado toast 

Stoemp

Tea with honey 
Lunch
Snacks
Fresh fruits & nuts 

Tart Cherry Juice 
Dinner
Tomatoes aux Crevettes Grises 

Flemish stew 

Cobb salad 
So, that's it! We have jotted down all the information relevant to the Kevin De Bruyne diet plan. In football, a player needs to be in continuous 90 minutes of movement, so here both nutrition and strength play a major role. That's why he focuses sincerely on his diet and keeps it simple and healthy. If anyone wishes to achieve a well-toned and chiseled body image, then make sure to get the appropriate amount of healthy nutrition and hydration.