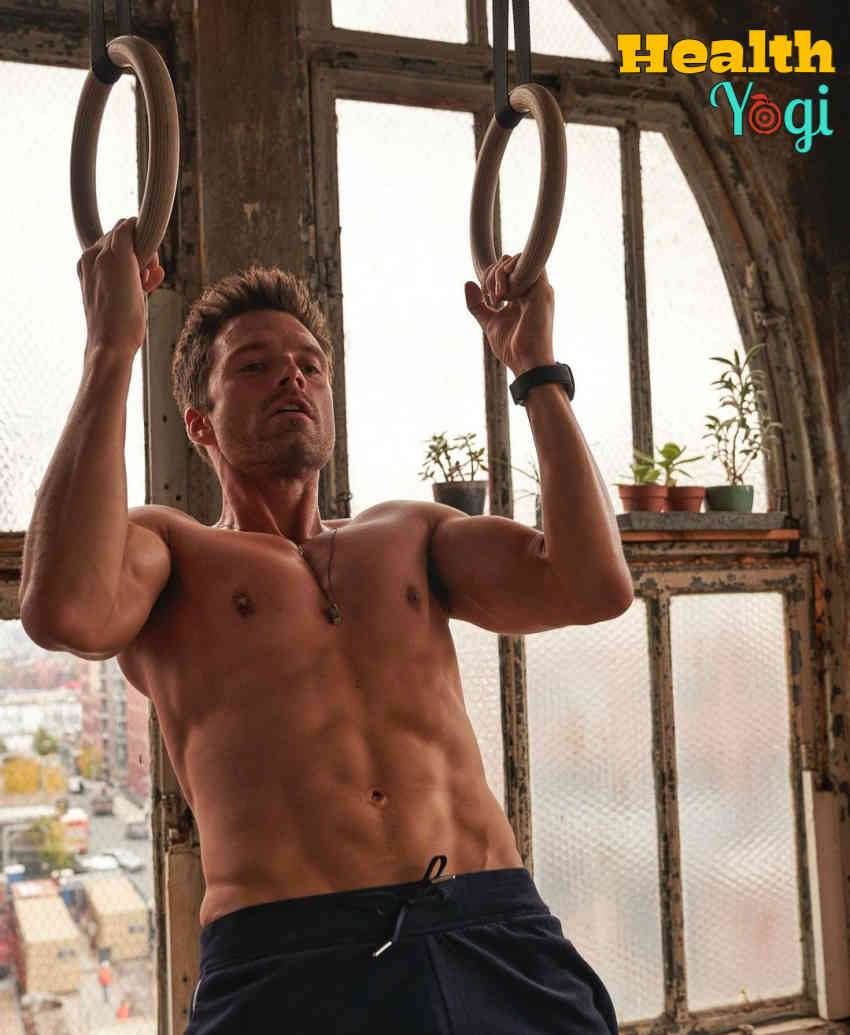 Sebastian Stan Workout Routine and Diet Plan: Sebastian Stan is an actor known for his movies and TV shows like Captain America; Winter Soldier, The Falcon, and The Winter Soldier, Pam &Tommy, I, Tonya, Gossip Girl, The 365, etc.
Sebastian Stan is undoubtedly one of the well-known names in Hollywood. However, Sebastian Stan has a considerable fan base for his fitness besides his acting. So if you also want to know the Sebastian Stan workout and the Sebastian Stan diet plan, keep reading.
Sebastian Stan Body Stats
| | |
| --- | --- |
| Height | 6 ft |
| Weight | 75-78 kg |
| Age | 39 years |
| Chest | 42-43 inch |
| Waist | 32 inch |
| Biceps | 14 inch |
Also Read: Anthony Mackie Workout Routine and Diet Plan
Sebastian Stan Workout Routine
Sebastian Stan is an incredible star and performer known for his work and acting in Marvel movies and many other movies and TV Shows. Sebastian Stan got more global recognition after joining the Marvel movies. However, their people always saw him as the big dude who was fit and athletic like Chris Evans. Unfortunately, it is not the case, as Sebastian Stan was not as big always before the Marvel movies.
In interviews, Sebastian Stan mentioned going to train for the movies because he was insecure about standing next to guys like Chris Evans and other Marvel celebrities. However, he was able to gain the muscles with consistent training in the gym with weights and following a proper diet. However, now you see him in Pam & Tommy, where Sebastian Stan has lost weight and looks lean.
So how does the transformation from lean to muscular and back to lean with muscle happen? Sebastian Stan was that while gaining muscle, he was focused on weight training and building his arms. You can read an article by Men's Health about how Sebastian Stan used to work out for Winter Soldier. Well, Sebastian Stan was so focused on making him look big, especially his arms, that he worked out so much before the Civil War shoot that the fake arm was not even fitting Sebastian Stan anymore.
Sebastian focused on High-Impact weight training, where the workout is quick and short and gives more impact on his muscle than the longer workout. So I would say that he would focus on doing 5-6 exercises and do about 4-5 sets of 15-8 reps each with as little rest as possible. After that, Sebastian Stan is leaner for his new role. Sebastian Stan interviewed Esquire magazine, where he mentioned he was walking 20k steps at least every day and fast most of the days to get the lean figure of a rockstar.
Sebastian Stan workout includes:
Want to bulk up like Sebastian Stan?
Focus on a high-impact workout with 5-6 exercises of every muscle group you train and 4-5 sets of 15-10 reps. Also, if you want bigger arms and chest, I would suggest lifting heavier than your standard weight limit and doing 6-8 reps to gain more muscle mass. Also, try to stop doing a lot of cardio workouts. To get bigger, you should focus on avoiding cardio, or your body will gain muscle, but it will stay lean.
Want to get lean like Sebastian Stan?
Well, if you aim to get that lean figure of a rockstar like Sebastian Stan, then focus on doing 20k steps a day and base your workout on a circuit routine that involves lightweight training. That will be enough, and then the rest will depend on a diet plan to get you a body as lean as Sebastian Stan.
That's all for the Sebastian Stan workout routine.
Also Read: Chris Evans Workout Routine and Diet Plan
Sebastian Stan Diet Plan
For the Sebastian Stan diet plan, well, during the Winter Soldier, Sebastian Stan was eating a proper diet with carbs, protein, fiber, and other nutrients. He was eating 5-6 meals a day, but he lost weight during rockstar.
Sebastian Stan diet includes:
Is Sebastian Stan a Vegan?
No, Sebastian Stan fasted for 16-18 hours a day and followed an intermittent fasting routine to lose weight. Besides that, he was also eating only a vegan diet and eating salads, avocado, and almond butter. However, he is not a vegan, and he just went on a plant-based diet because he wanted to lose weight. 
That's all for the Sebastian Stan diet plan.