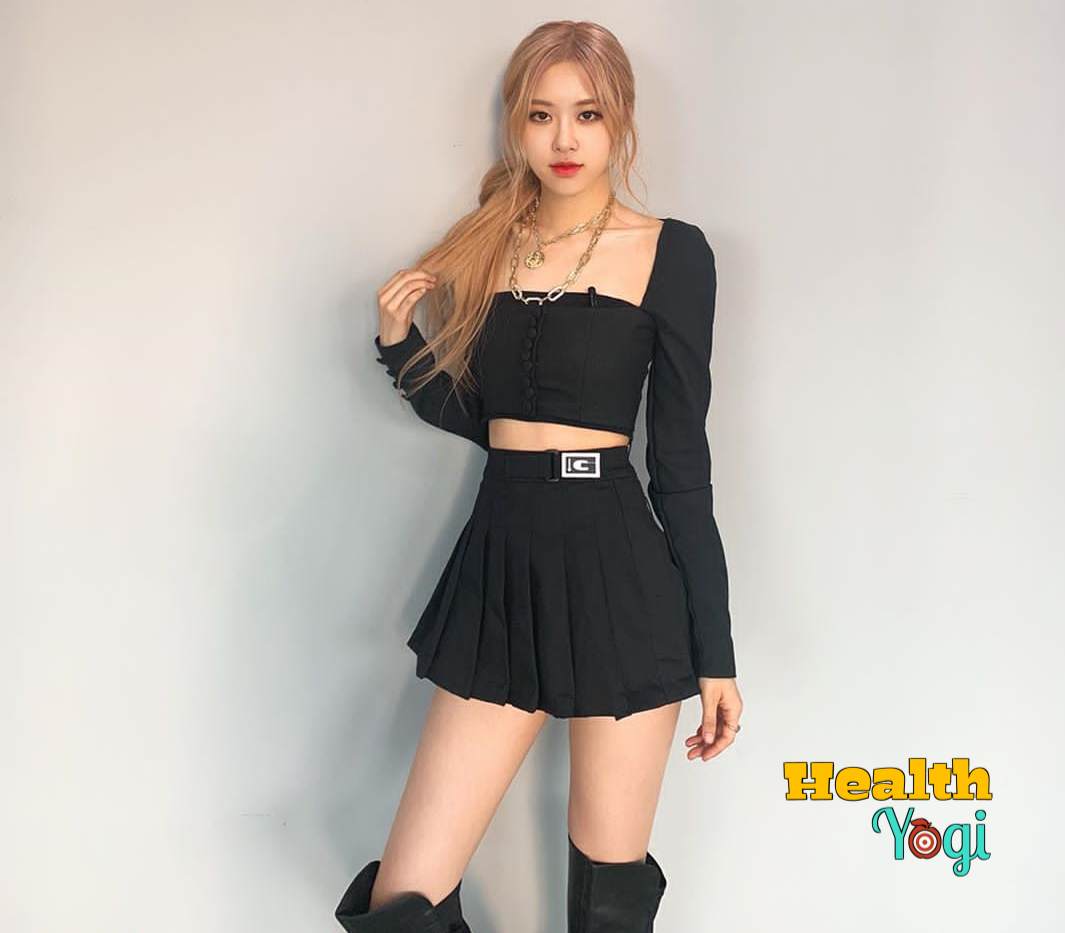 Blackpink Rosé (Roseanne Park) Workout Routine and Diet Plan: Rosé is a Korean singer in a band called Black Pink. She is one of the most favorite singers of the fans, and we all know how powerful Rosé's voice is.
Just like every other K-pop idol Rosé also has to maintain fitness to stay in the group. Fitness and a slim body are oneof the most important things in every K-pop group and for every K-pop idol. So we will talk about Rosé workout routine and will take a look at Rosé's diet plan.
Roseanne Park Rosé Body Stats
| | |
| --- | --- |
| Rosé Height | 1.68 Meters |
| Rosé Weight | 45 Kg |
| Rosé Age | 23 Years |
| Breast | 34 Inch |
| Waist | 24 Inch |
| Hips | 39 Inch |
Also Read: Jennie Kim Workout Routine and Diet Plan
Rosé Workout Routine
When the group started everyone there in Black pink didn't really work out at all. Their workout was just going to daily practice and doing performance that's all. They didn't even have any regular diet but it all changed just before the song Kill This Love.
We all know that song was the one that took them around the world. No doubt it was one of the most amazing songs by the group Black Pink.
So now Roseanne Park just like other Black pink members adapted 1 extra thing that they can do to keep themselves more fit and healthy. let's check it.
Rosé Exercise Includes-
Dancing
So for dancing it's still what Rosé does in most of her days. As they cannot deny the practice session at all, this is what brings them stamina and Flexibility. She does dance practice for about an hour or 2 with the rest of the Black Pink members.
Pilate's
Now Rosé adapted a new thing for Pilates, she will go to the Pilates classes and workout on the Pilates machine. Where she will perform a lot of stretches and other things that you can even see in the Black Pink official YouTube channel where they show Rose working out on the Pilates machine and doing stretches with a Medicine ball. This is all about Rosé workout routine.
Also Read: South Korean Singer Lisa Workout Routine and Diet Plan
Rosé Diet Plan
They still eat what they like and just control the amount of food they eat. Now they have just adjusted some of the healthy food and light food in there everyday routine.
As you see in the video earlier, Rosé doesn't focus on a diet much; I think for her, it's more about balancing meals and eating only after the afternoon. More like intermittent fasting and keeping it balanced.
Plus, looking at Rosé, you can say that her genes also do the work for her, and that's why Rosé doesn't do a lot of dieting. However, not everyone is that lucky as Rosé to be able to get those genes.
So you can follow a diet that I think will work best for you guys. We will be intermittent fasting while keeping our eating windows to 8 hours a day, from 12 pm to 8 pm.
However, you don't have to worry, as even though it's intermittent fasting, we will be eating three to four small meals with proper nutrition and healthy foods. It will help you get lean and also boost your metabolism.
Also, if you can't get used to it and feel like wanting to eat after those 8 hours, then drink green tea without any lemon or honey. That will help you control your hunger and boost your metabolism that will help you digest food.
Also, it will not break your fast as it contains almost zero calories, so let's get your diet started and check the foods that will help you get a lean figure like Rosé. The last thing is to drink 2 gallons of water at least every day and follow the workout.
Rosé diet includes:
Pre-lunch
Lunch
Chicken breast

A small bowl of rice

Veggies
Snack
Dinner
Salmon salad or stir-fried veggies (tofu, mushroom, bell peppers, onions, carrots, etc.)
Is Rose Vegan?
No. Blackpink Rose is not vegan.
That's all for the Rosé diet plan.
Important links >>
BlackPink Jisoo Workout Routine and Diet Plan