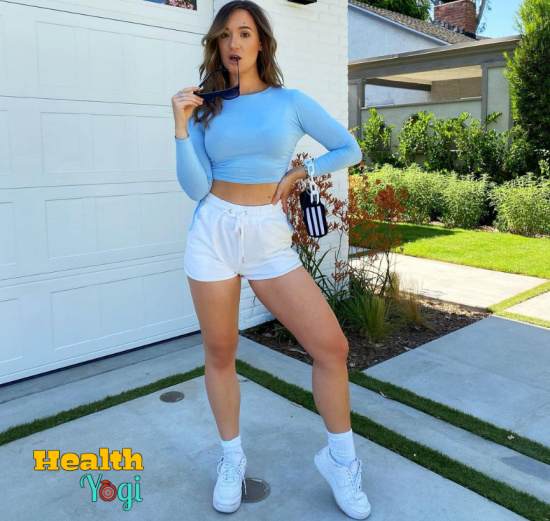 Alisha Marie Diet Plan and Workout Routine:  Alisha Marie nicknamed Lida or Alisha is an American YouTuber and belongs to California, United States. She is very popular among youth for her useful and interesting content that she uploads on Social Media through her YouTube channel. She has managed to mass and gains total subscribers of around 8.2 million on YouTube, indicating a great fan following.
The YouTuber or social media personality was in limelight for her extreme body transformation and fitness over the past few months. She was on a great diet and workout routine that she was able to reduce around 30 lbs of weight. She constantly updated and motivated her followers through her amazing body transformation.
Let us look at Alisha Marie's workout routine and diet plan that made her transform completely into a breath-taking body and shape.
Alisha Marie Body Stats
| | |
| --- | --- |
| Age | 26 years |
| Height | 5 feet 8 inches |
| Weight | 55 kgs |
| Bust | 32 inches |
| Waist | 25 inches |
| Hips | 34 inches |
 Also Read: Lauren Riihimaki Workout Routine and Diet Plan
Alisha Marie Workout Routine
Alisha has uploaded 2 to 3 videos on YouTube regarding her journey of weight loss and mentioned in those videos that she did a blend of various workouts and also went to the gym to lose weight and gain fitness. Let's look at the different modes of workouts she used in her journey.
Arm Exercises
Dumbbell curls: 30 seconds, 2 reps

Triceps kickback: 40 seconds, 2 reps

Triceps dip: 30 seconds, 2 reps
Back Exercises
Resistance band pull apart: 30 seconds with 2 reps

Two arm dumbbell row: 2 reps of 40 seconds each

Wall angles: 2 reps of 30 seconds each (It targets back, neck, and shoulders)
Chest Workout
Chest press using dumbbells: 40 seconds

Mountain climbers: 40 seconds

Dumbbell front raises: 30 seconds

Deltoid raise: 40 seconds. (works for chest, shoulder, biceps, and shoulders)
Focus on your workout and engage your core while performing all the exercises. Remember to warm up before the workouts and cool down after the workouts.
Exercise Bikes
Alisha Marie includes exercising on the exercise bike and cycling on this for 30 minutes daily. She considers it as an effective and easy way of workout. Let's see some benefits of exercise bikes:
Boosts your cardio fitness

Get your heart pumping fast

Burns body fat

Provides a good low impact workout

Strengthens legs and lower body muscles

Allows for interval training

Safer than road cycling
Treadmill
Alisha ran on the treadmill daily and it helped her to lose weight and tone her body in the long run.

Alisha does 3 speeds on the treadmill with 12 inclines for 30 minutes.
Her workout is not very intense, but it's useful for her body. Her diet complements her workout completely, let's see what the young YouTuber eats in her diet plan.
Also Read: Bethany Mota Diet Plan and Workout Routine
Alisha Marie Diet Plan
Alisha eats in many parts, let's see what she includes
Pre-workout Snacks
She eats peanut butter and blueberry splits before proceed with her workout to gain energy.
Breakfast
She prefers to prepare a smoothie for her breakfast. The ingredients she uses for her smoothie are banana, peanut butter, spinach, chocolate protein, and

almond milk.

She adds a little bit of water in it too.

Mid-morning snack: 1 serving of any seasonal fruit of your choice. Alisha usually eats an apple.
Lunch
Alisha's go-to lunch is a vegetable salad with 6 ounces of chicken. Chicken is highly rich in protein and is pretty much eaten with any salad. Alisha uses spinach, carrots, tomatoes, and cucumber as her salad.

She adds avocados too in her lunch (either one or half serving)

She adds plain garlic powder and pepper to make the chicken taste a little bit more delicious and toothsome to eat.
Dinner
For dinner, Alisha Marie prefers to eat eight ounces of any fish, she usually goes for salmon. She tops the fish with lemon garlic spread and onions.

She also makes healthy chow min as an alternative to her dinner.

She prepares her desserts using keto recipes which are sugar-free and rich in fats and proteins. Pretty much Alisha avoids carbs.
This was all about Alisha Marie's workout routine and diet plan. For more information, you can ask questions and express your thoughts below in the comments.
Also Read: Eva Gutowski Diet Plan and Workout Routine