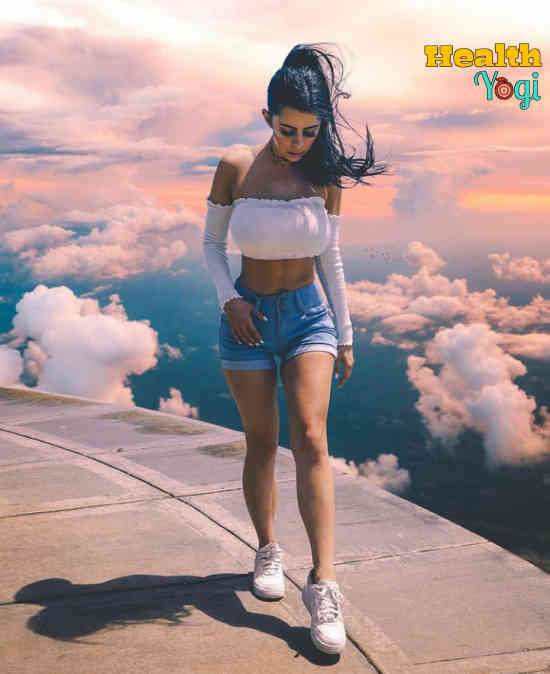 Azzyland Diet Plan and Workout Routine: Azzyland is a YouTuber known for her gaming, vlog, and many other YouTube content. Azzy has more than 11 million followers, and she is known as one of the best YouTubers. Even though her work involves being at home most of the time, Azzy takes care of her health and fitness pretty well.
That's why many of her fans also love and admire her body shape. So if you also want to learn more about the Azzyland workout routine and the Azzyland diet plan, keep following.
Azzyland Body Stats
| | |
| --- | --- |
| Height | 5 ft 4 inch |
| Weight | 56 kg |
| Age | 29 years  |
| Breast | 34 inch |
| Waist | 24 inch |
| Hips | 35 inch |
Also Read: Sssniperwolf Workout Routine and Diet Plan 2020
Azzyland Workout Routine
Azzy loves to work out a couple of years ago, she got injured and couldn't continue her workout routine. However, in 2020 starting Azzy was able to get back in the best shape hers. Azzy loves to workout regularly and does a lot of things to keep herself fit. The main activity that she loves contains a lot of weight training routines.
Azzy posted a video of her working out last year, February, where Azzy showed her leg workout that she loves to do. She even mentioned the exercises that she did in that video in the description. The activities that Azzy did contains exercises like;
Sets: 3
Clamshells x 20

Side leg raises x 20

Donkey kickbacks x 20

Inverted leg raises on bench x 20

Inverted leg raises with ball x 20

Single leg push downs x 12

Thigh abduction machine x 10

Abduction squats x 8

Hip thruster till failure (do as many sets as you can)
So as we saw that Azzy loves doing weight routines, and other than this, she may be doing some cardio finisher workout, but sadly we don't know much about that. However, I can still give you a routine to follow and get a body like Azzy. Our workout will consist of doing weight training and ending our activity with a circuit core routine. So let's start it:
Azzyland workout includes:
Weight Training
We will do five days of workout focusing on our upper body and legs. Most of the training will be focused on the lower body only. Unlike Azzy, I like to target every lower body muscle on different days that consist of exercise for glutes, quads, and hamstring on other days. However, we can do a mixture of routine and add up a few of the things to work it in a way Azzy would love to workout.
Sets: 3
Reps: 12 to 20
Monday
Clamshells

Side leg raises

Donkey kickbacks

Inverted leg raises on the bench.

Inverted leg raises with a ball.

Single leg pushdowns

Thigh abduction machine

Abduction squats

Hip thruster till failure (do as many sets as you can)
Tuesday
Bench press

Incline dumbbell press

Cable flyes

Lat pulldowns

Cable rows

Bent over rows

Shoulder press

Lateral raises

Shrugs
Wednesday
Banded squat walk to jump

Deep squats

Curtsy lunge

Dumbbell lunge variation (front to back and then side to side)

Leg press

Leg extension to curls

Stiff-leg deadlifts

Hyperextension
Thursday
Bicep dumbbell curls

Barbell curl

Hammer curls

Cable curls

Triceps extension

Triceps pushdowns

Triceps skull crusher

Triceps kickbacks

Delt flyes

Lateral delt flyes
Friday
Overhead squats

Kettlebell sumo squats

Weighted squat box jumps

One leg hip thruster

Glute bridge hold

Glute abduction

Banded fire hydrant to side leg lifts

Cable glute kickbacks to side glute kickbacks

Calf raises
Core Cardio Finisher
I'm not sure if Azzy even does this routine or not, but if you do this after the weight training, it will surely benefit you and help you with your goals.
Circuit: 4
Reps: 40 seconds
Rest time after the whole circuit: 90 seconds
Incline ball crunches

Hanging leg raises with a twist.

Russian twist with ball slams

Plank twister

Plank hold

V-ups hold
That's all for the Azzyland workout routine.
Also Read: Lele Pons Workout Routine and Diet Plan [2020]
Azzyland Diet Plan
I tried finding her current diet plan but sadly couldn't get what she eats in her daily life. However, Azzy does like to eat a lot of different stuff, and you can tell by how seriously Azzy works out that she must take her diet quite seriously. Well, I can't give you her routine, but I can give you a diet that will work best with this workout to get you in the shape you want.
Azzyland diet includes:
Breakfast
Protein smoothie

Scramble eggs

Avocado toast
Lunch
Post-lunch meal
Chicken (roasted or boiled)

Steamed veggies

Sweet potato
Dinner
Salmon or chicken

Veggies

Salad

Two times a week, you can enjoy the desert if you want, but keep it in moderation.
That's all for the Azzyland diet plan.
Also Read: Wengie Diet Plan and Workout Routine