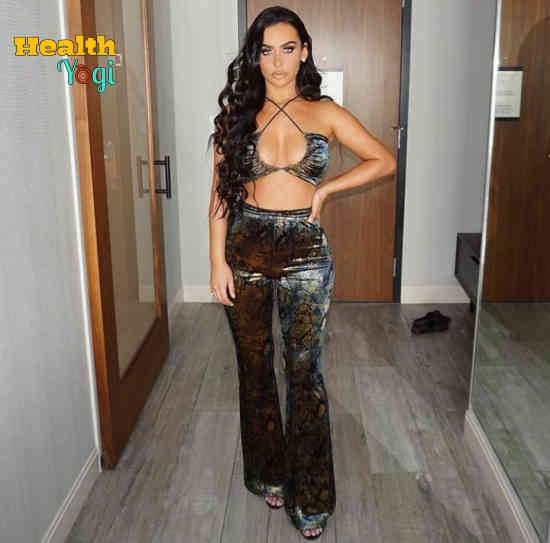 Carli Bybel Diet Plan and Workout Routine: Carli Bybel is a YouTuber, makeup artist, fashion blogger, and fitness lover. Carli has two channels. One of them gets based on beauty and fashion content, while the other showcases the daily Vlogs and other videos that she puts on the track. 
While Carli gets known for all that, her fans always loved her body physique. That's why some of them even call her Fitness GuRu. I don't know if she is a certified trainer or not, but yeah, I do admit she has an incredible physique. So let's see the Carli Bybel workout and the Carli Bybel diet plan.
Carli Bybel Body Stats
| | |
| --- | --- |
| Height | 5 ft 3 inch |
| Weight | 57 kg (currently weighing more because of pregnancy) |
| Age | 30 years |
| Breast | 34 inch |
| Waist | 25 inch |
| Hips | 35 inch |
Also Read: Bethany Mota Diet Plan and Workout Routine
Carli Bybel Workout Routine
So I tried finding the Carli workout routine, and it turns out that she does like to stay fit. While she is currently pregnant and can't workout that intense or even like an average person, Carli still looks super good. She hasn't gained any double chin or fat other than her belly, which is quite normal in pregnancy.
Before we start talking about the workout routine, let me remind you that all these workouts are before she got pregnant. Now, I found out that Carli likes to workout at her home with her friend/trainer, and they always train together. Carli's activity consists of a warm-up cardio workout and a mixture of bodyweight, weights, and resistance training that she does in a group of fours.
In the video where Carli showed her exercises with her trainer, you can see they do four rounds of 3 exercises with three sets each exercise. The rep counts depend on the workout they do, but they most likely keep it 12 to 15 reps. In that video, she showed her legs workout routine. So, I'm guessing that Carli's workout would be training the upper body, lower body, and core on different days.
Looking at the video, that's what it looks like they are doing. That's why I will give you a six-day workout routine that will provide you with a shape like Carli Bybel.
Carli Bybel workout includes:
Cardio
In the cardio routine, they did one of my favorite way of training. You increase the difficulty by surprising your body by putting it in a relaxed state and then taking it fast; you can burn calories in less time. You can follow the exact 15-minute running routine with a one-minute walk to a minute running. I would recommend every day to try using a different machine like elliptical, biking, hydro-rowing, etc. If you are sticking to one workout, it will also work pretty well.
Toning Workout
We will train our upper body, lower body, and core twice a week for the toning workout. This training pattern will help you get an overall balance while building muscles and getting fit. We will follow the same way of 4 rounds and three exercises in each circuit. I will keep it a circuit routine, and we will only rest after finishing the whole group three times. However, if you are a newbie, you can take the rest in between the group.
Rounds: 4
Exercises in each round: 3
Sets in each exercise: 3
Reps in each set: 12 to 15
Rest time after each round: 60 to 90 seconds
Monday and Thursday
1st
Push-ups

Dumbbell press

Dumbbell flyes
2nd
Lat pulldowns

TRX rows to Inverted rows 

One-arm dumbbell rows
3rd
Shoulder press

Lateral raises to the front raises

Dumbbell shrugs
4th
Bicep curls

Hammer curls to spider curls

Triceps pushdowns to kickbacks
Tuesday and Friday
1st
Crunches

Cross crunches

Incline weighted crunches
2nd
Leg raises

Russian twist with a ball

V-ups
3rd
Plank hold for 30 seconds

Side plank, 40 seconds (on each side)

Resistance band plank reach
4th
Plank twister

Woodchopper

Abs roller
Wednesday and Saturday
Do precisely the routine shown in the video of Carli Bybel.
That's all for the Carli Bybel workout routine.
Also Read: Kim Kardashian Workout Routine And Diet Plan 2020
Carli Bybel Diet Plan
Now I did find out her videos where she showed the diet plan; there are two videos in which Carli is talking about her diet. In the first video, she ate oats and juice for breakfast, followed by a bowl of salad for lunch, and then finished with brown rice with stir-fried veggies. She is also vegan, so yeah, all of the Carli food is vegan, so it means no meat, no dairy, she doesn't even consume white sugar. Now I will show you the diet of 2nd video:
Carli Bybel diet includes:
Breakfast
Smoothie with fruits, almond milk, cauliflower, dairy-free vanilla yogurt
Lunch
Dinner
Snacks
Protein bites

Vegan chocolate chips cookies
That's all for the Carli Bybel diet plan.
Also Read: Kylie Jenner Workout Routine and Diet Plan [2020]