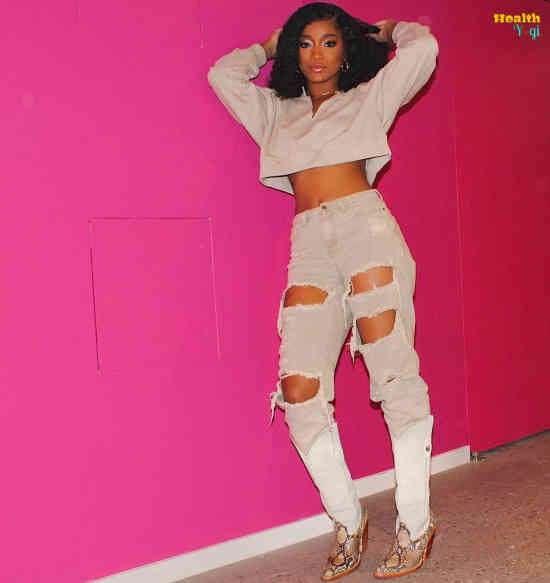 Keke Palmer Diet Plan and Workout Routine: Keke Palmer is a singer, model, actress, and social media personality known for her movies and TV shows like Akeelah and The Bee, Hustlers, Rags, Brotherly Love, Jump In!, etc.
Keke is also well known for her looks and the way she has presented herself over the years. So many people want to get a body like Keke, so if you also want the Keke Palmer workout and the Keke Palmer diet plan, keep reading.
Keke Palmer Body Stats
| | |
| --- | --- |
| Height | 5 ft 6 inch |
| Weight | 52-54 kg |
| Age | 27 years (28 on 26 August) |
| Breast | 32 inch |
| Waist | 24 inch |
| Hips | 33 inch |
Also Read: Christina Milian Diet Plan and Workout Routine
Keke Palmer Workout Routine
Keke is one of the multi-talented actresses and had success in different fields like music, movies, tv shows, etc. Also, she has been in this industry since her childhood years, and I have mostly seen Keke in an incredible body shape. I'm not saying that it's all because of her body shape, but yeah, you cannot deny that Keke does have an incredible body.
Now to maintain that body shape, Keke tries to do some workouts regularly and stay fit. The training pattern for her workout is undoubtedly changing constantly, and as she is training different things and sometimes her album or TV shows can be why she works out differently. So to get an overall idea of Keke's workout routine, I searched for articles and other things that will help me know the type of training Keke likes to do.
This article from Shape magazine tells us about Keke's workout, where they interviewed Keke in 2017. Keke talks about her diet and exercises that she loves, and two workouts that Keke does mostly are cardio and light bodyweight training. But then, Keke also says that she does weight training, but not regularly or as much as her other workouts.
However, in a recent post, and recently, I mean a few weeks ago, Keke posted this video of her training in the gym. There she is doing a weighted pulse squats variation with a bar. I recommend doing it with a kettlebell or a dumbbell, but well, whatever she likes. Also, Keke's favorite areas to work on are her core, thighs, and butts, so if you want to get a body like her, that's where you should focus.
I do think that Keke must be adding a little more weight training to her routine, which is why I would give you an update on the workout routine that I think works quite well. It will consist of 5-7 days of workout, in which two days will be stretching days, and other days we will be doing cardio, core, and weight training. So let's get it started:
Keke Palmer workout includes:
Cardio
In the cardio routine, we will be doing a few minutes of interval training. I recommend doing one minute on a moderate speed and 30 seconds springs method. So that's why I would suggest doing 15 minutes of running and then 15 minutes of hydro-rowing/water-rowing machine in an interval training.
Toning Workout
We will be doing four days of weight training with some core workouts and bodyweight training in the toning workout. It will be a circuit routine training all your body, and we will do it right after the cardio warm-up.
Training: Lightweight training (keep the weight light in every set)
Circuit: 3
Exercise in each circuit: 4
Reps: 20
Sets of each exercise: 3
Rest time after the circuit: 80 to 120 seconds
Monday
1st
Weighted squats

Barbell squats

Banded crab walks

Leg press
2nd
Leg extension

Lunges

Calf raises

Seated calf raises
3rd
Crunches

Leg raises

Russian twist

Plank hold
Tuesday
1st
Push-ups

Chest press

Dumbbell press

Dumbbell flyes
2nd
Wide grip lat pulldowns

Cable rows

Dumbbell rows

Dumbbell deadlifts
3rd
Ball plank in and out crunches

Hanging leg raises

Cable wood chops

Side plank to a crunch
Wednesday
1st
Banded squat walks

Dumbbell explosive squats

Stability squats

Leg curls
2nd
Dumbbell sumo squats

Curtsy lunge

Stiff-leg deadlift

Single leg pushdowns
3rd
Incline weighted crunches

Leg lifts up

Scissor kicks

Plank reach
Thursday
1st
Shoulder press

Lateral raises

Front raise

Shrugs
2nd
Biceps curls

Barbell curls

Triceps pushdown

Triceps kickbacks
3rd
Reverse crunches

Bicycle crunches

Plank twister

Plank to toe touch
Friday
1st
Deep smith machine squats

Hack squats

Reverse lunges

Bulgarian squats
2nd
Hip thruster

Hip abduction

Glutes hyperextension

Glutes cable kickbacks
3rd
Toe touch crunches

Hanging leg raises

Side high plank

Stability ball plank
Pilates
Now the concern that holds down Keke from doing a good amount of weight training was not having enough stamina and being too stiff. Well, stamina will get taken care of through our circuit and HIIT training.
As for flexibility and not being stiff, Pilates will help you. So on your weekends, you can do like an hour of Pilates classes to relax and stretch your body.
That's all for the Keke Palmer workout routine.
Also Read: Nicki Nicole Diet Plan and Workout Routine
Keke Palmer Diet Plan
Now in the same Shape article, the diet is relatively healthy and helped Keke through years of staying fit and being in good shape. Also, I couldn't find any diet after that to follow that diet plan, Keke. 
Keke Palmer diet includes:
Is Keke Palmer a Vegan?
No, Keke Palmer is not a vegan.
Breakfast
Snack
Lunch
Evening Snack
Dinner
That's all for the Keke Palmer diet plan.
Also Read: [ Doja Cat Weight Loss] Doja Cat Diet Plan and Workout Routine