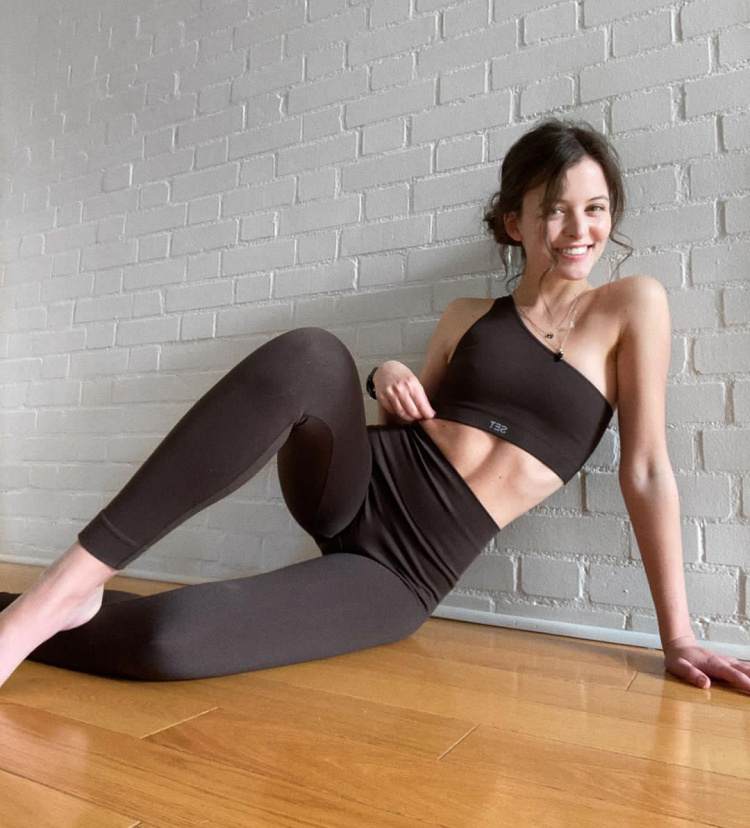 Sara Waisglass Diet Plan and Workout Routine: Sara Waisglass's latest project titled 'Needle little Christmas' has been announced to be released in December 2023. The 24-year-old Canadian actress has been making quite a lot of headlines recently with her acting abilities. She has been acting since a very young age and transitioned to modeling at Fifteen. Now she is a well-known and promising actor and model.
Sara Waisglass has been in the limelight lately for her role as Maxine (Max) Baker in the hit Netflix series Ginny &Georgia. Her co-star Antonia Gentry called Sara her soulmate. Now Sara enjoys a following of close to 3 million on Instagram. Sara is not just a good actress but also carries a youthful beauty and looks extremely fit. She is not just into fitness for the aesthetic part of it but genuinely enjoys fitness. 
So, in this post, we will bring you the Sara Waisglass Diet Plan and Workout Routine and we will also give out some tips that we can easily conclude from Sara's Fitness routine. We have consolidated this post from Sara's various interviews and we combine it with some tips from Healthyogi.
Sara Waisglass Body stats
| | |
| --- | --- |
| Height | 5 feet 5 inches |
| Weight | 52 kgs |
| Age | 24 years |
| Shoulders | 28 inches |
| Waist | 24 inches |
Also Read: Felix Mallard Workout Routine and Diet Plan
Sara Waisglass Workout Routine 
Sara is a very sporty girl, and being a model and actor from a young age has had an effect on her and she is quite active concerning her fitness and overall health. The actress involves herself in various sports and other fitness activities and seems to really enjoy them too.
Sports like Ice hockey, skateboarding, and surfing interest her. The core of Fitness lies in consistency and discipline, and being genuinely interested in the regime that you follow is a masterstroke for long-term fitness.
Sara Waisglass Workout Routine includes
Soul cycling 
Soul cycling is an indoor cycling class that includes HIIT, Resistance workouts, and strength training. This is also called spinning and the actress loves it. A look at Sara's captions can tell you how much she loves her spinning class. The actress takes regular spinning classes for her fans and is a total pro at it. 
In addition to the obvious cardio benefits, soul cycling combines the benefits of other exercises too, which essentially means building muscles and toning the body. So, you can join a Soul cycling class to embark on your journey to long-term health. We would suggest you start with a 30-minute session with Adequate rest if needed to avoid injuries.
Swimming 
The actress's Instagram is filled with her pictures enjoying a relaxing session in a pool or along a beach at Lagoon. The actress seems to be a real water child. Swimming is often a favorite exercise of actresses for its soothing effects. It has the proven benefits of reducing stress and triggering the secretion of happy hormones in the body. Besides, swimming improves flexibility, builds muscles, and boosts cardiovascular health. A swimming session of 20-25 minutes, 3-4 times a week is good to start.
Walking 
Walking is also a great exercise, especially for people with heart conditions for its low body impact nature. Walking is preferred by many celebs as a way to be physically active throughout the day. Walking has its benefits and helps with weight management and builds stronger bones and muscles. For people with blood pressure and heart issues, walking helps reduce the risk of further deterioration of the condition.
So walking is considered to be the best exercise by many holistic health coaches. Sara too has posted a lot of her pictures, hopping around during vacations and even on sets she likes to keep moving her body and be physically active.
Surfing 
Now, surfing seems to be Sara's favorite hobby and she posted a video of herself surfing on her Instagram some time back. Surfing is an exercise that Sara truly loves. Surfing is also a commonly enjoyed activity Sara's co-star playing the role of  Marcus enjoys his surfing sessions. (We have covered his workout routine too here.) Surfing has a meditative and spiritual side to it.
But physically, surfing builds your core and back muscles and builds cardiovascular strength from paddling. So if you are interested, Surfing is a great way to build strength and relieve stress on an everyday basis.
Long Baths
We know bathing is not an exercise per se, but it has a lot of benefits, especially for your mental health. And Sara Waisglass's guilty pleasure is taking too many baths. Bathing every day has cardiovascular benefits, helps with immunity and blood circulation, and also releases dopamine in your body. 
So, you too should consider taking cold showers daily to help you with your long-term mental and physical health.
This is all about Sara Waisglass Workout Routine.
Also Read: Brianne Howey Diet Plan and Workout Routine
Sara Waisglass Diet Plan
Sara Waisglass Diet Plan is not fully revealed but she likes to have a window of relaxation open for herself. It means, she does not seem to have a hard and fast diet routine. In shootings, she likes to have McDonald's Dinners while having lunch and breakfast on sets.  
Some of her favorites include Nutella, Salads, French Toast, strawberry, Peanut Butter, pizza with Vegetable dressings, and Desserts with marshmallows.
Sara's favorite dish is Nutella & strawberry Belgian waffle.
That's all for Sara Waisglass Diet Pian.
Also Read: Antonia Gentry Diet Plan and Workout Routine