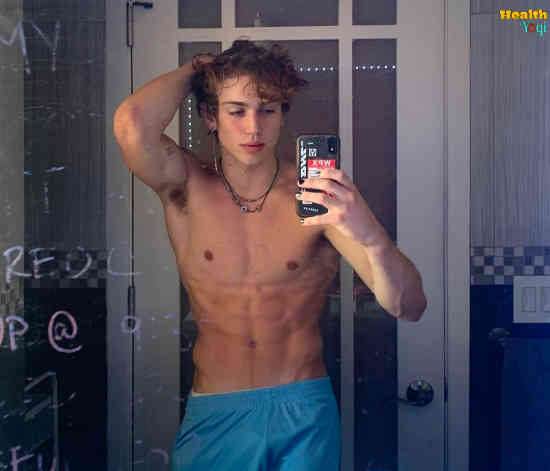 Vinnie Hacker Workout Routine and Diet Plan: Vinnie Hacker is a social media influencer, Tik-Tokker, and model known for his Tik-Tok videos. However, these last few days, we have seen Vinnie from another perspective.
Vinnie was the only person to win from the Tik-Tok team in the YouTube vs. Tik-Tok boxing challenge. He won against Deji, the Youtuber who has over 10 million subscribers. So if you also want to know the Vinnie Hacker workout and the Vinnie Hacker diet plan, keep reading.
Vinnie Hacker Body Stats
| | |
| --- | --- |
| Height  | 5 ft 10 inch |
| Weight  | 72 kg |
| Age  | 18 years |
| Chest  | 42 inch |
| Waist  | 30 inch |
| Biceps  | 14½ inch |
Also Read: PontiacmadeDDG Workout Routine and Diet Plan
Vinnie Hacker Workout Routine
Vinnie Hacker, the 18-year-old guy from the Tik-Tok team that won against Deji, the only YouTuber that lost the match. It was going so well for the whole YouTube roster until Deji showed up and got his ass beaten. The guy was in such bad shape that I still can't believe whether Vinnie won because he trained a lot or won because Deji took it as a joke.
Deji was so bad that I couldn't even believe they let him fight Vinnie. However, that's a topic for another article; right now, we need to know the Vinnie workout routine that got him in that winning shape. Vinnie is a lovely and decent guy; I saw his interviews with Hollywire and other media channels where he never dissed Deji before the fight.
While showing respect, he also stated that he's working hard and trying his best to do as much work as possible on his boxing. Even before the boxing match, Vinnie had a perfect body shape, which is the only reason why he got famous on the Tik-Tok. No offense, I don't hate Vinnie, but I have seen his tik-toks, and he's always naked and doing nothing most of the time.
Now about his workout, it usually includes doing boxing, cardio, and some weight training. There isn't an actual routine out, so I can't give you precisely what Vinnie would be doing for his workout. However, I can still try to give you a routine to help you get a good body shape and fitness like Vinnie. We will train and work out six days a week and two hours a day. So let's get ready:
Vinnie Hacker workout includes:
Cardio/Warm-up
We will start with a few minutes of running on the treadmill or the track; make sure you keep the distance below 3km, and the speed should be at a moderate pace. After that, you will be doing 10 to 15 minutes of speed rope. You can also incorporate the speed rope between the boxing training.
Boxing
After that, we will focus on an hour of boxing routine to do sparring, speed bag, etc. Since I can't tell you much about boxing, as it doesn't fall in my category, I recommend that you join a boxing gym and learn about the training.
Weight Training
Now in weight training, you can do different types of workouts. However, most boxers focus on upper body training and do exercises like shoulder shrugs, shoulder press, deadlift, bench press, incline bench press, etc.
You can incorporate according to your needs and update the routine. Also, make sure you add a core circuit routine that will be a maximum of 10 minutes containing exercises like crunches, leg raises, resistance ball crunch, plank hold, etc.
That's all for the Vinnie Hacker workout routine.
Also Read: Faze Jarvis Workout Routine and Diet Plan
Vinnie Hacker Diet Plan
Vinnie's diet isn't out, so I can't tell you what he likes to eat. However, I have seen and checked many other players that took part here in the contents. So I will be giving a very similar diet plan that will help you get a body like Vinnie Hacker. Remember that it's not what Vinnie eats, but only a diet I created for you guys.
Vinnie Hacker diet includes:
Breakfast
Oatmeal with fruits, nuts, and a scoop of protein powder
Snack
Lunch
Evening Snack
Dinner
Chicken or Turkey

Veggies

Salad
That's all for the Vinnie Hacker diet plan.
Also Read: Austin McBroom Workout Routine and Diet Plan